Event calendar 2020
The zoo is not just a walk among the animals. Visit us to learn something new, interesting, play some games and have fun.
In case of bad weather, the event can be canceled or moved to another date. You can get more detailed info: +420 387 002 211 ;+420 724 113 797 (Monday to Friday 8 - 15) or by e-mail info@zoohluboka.cz. Change of programme is reserved.
11. 4. 2020 EASTER IN THE ZOO
CANCELED
We celebrate the arrival of spring and the new season and we look forward to new cubs. During the afternoon, there will be commented feedings, art workshops, folk crafts. An entertaining program for the whole family, competitions for children, an old-Bohemian fair, musical performances and lots of fun.
1. 5. 2020 MAY DAY
CANCELED
Endangered species are calling for help. This year, big and small cats are roaring at us. Come and learn a lot of interesting things about felines.
20. 5. 2020 MUZIKANTI A JINÁ ZVÍŘATA
CANCELED
Ve spolupráci s Jihočeskou filharmonií se uskuteční speciální koncert pro dětské posluchače a jejich rodiče.
25. 5. - 5. 6. 2020 DĚTSKÉ DIVADELNÍ DNY
CANCELED
Tradiční dva týdny pohádek nejen pro děti mateřských a základních škol. Představení se konají ve všedních dnech v zastřešeném divadélku.
20. 6. 2020 PTAČÍ DEN
CANCELED
I naše domy a zahrady mohou být smrtícími pastmi pro ptáky. Dozvíte se, co můžete zlepšit, aby tomu tak nebylo. Den věnovaný opeřencům a jejich ochraně, ukázky odchytu a kroužkování ptáků žijících v okolí zoo.
3. 7. 2020
EVENING FAIRY-TALE ZOO
MOVED TO NEW DATE
Get fairy-tale experience together with our animals.
6. 8. 2020 EVENING FAIRY-TALE ZOO
Get fairy-tale experience together with our animals.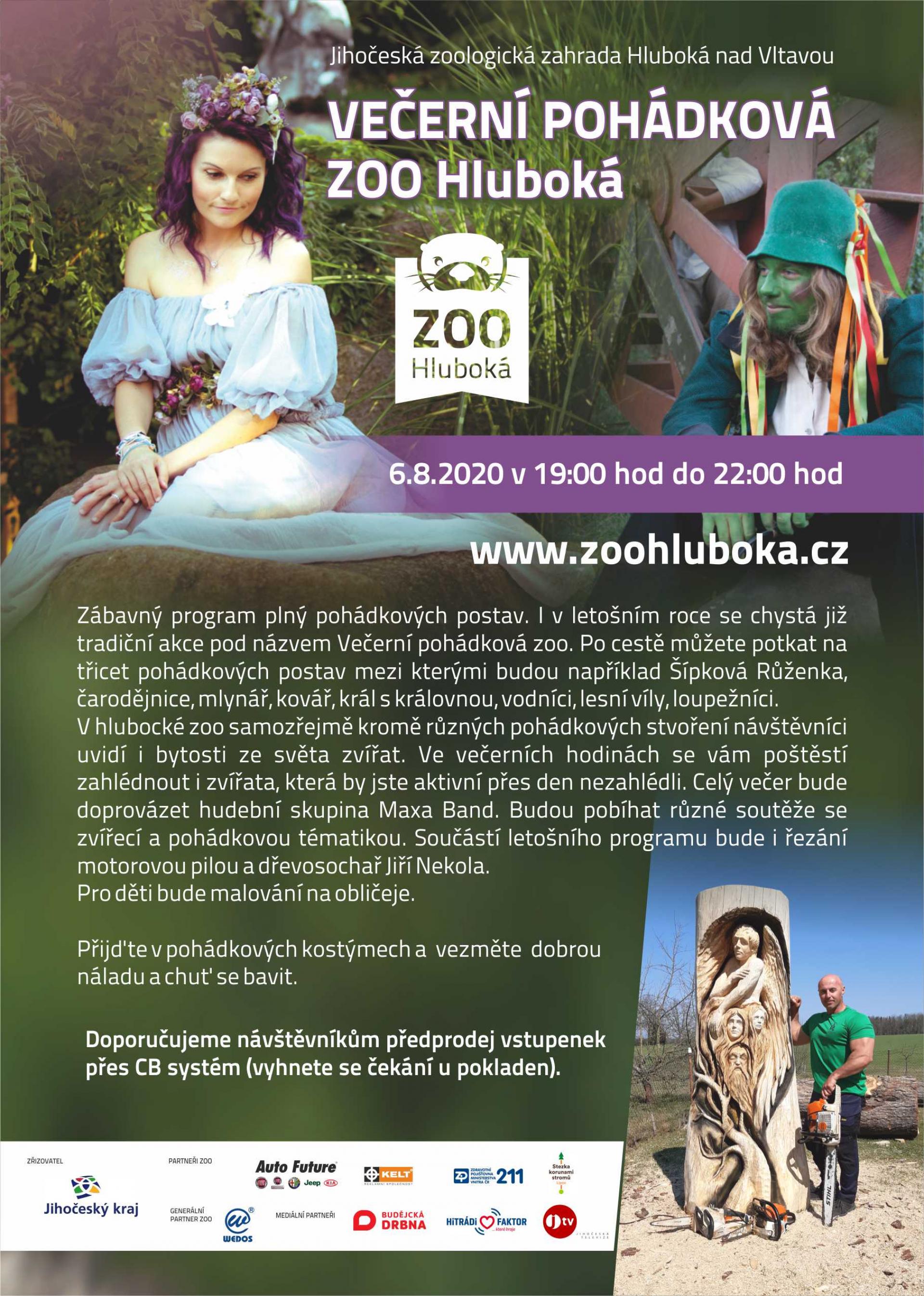 5. 9. 2020 BAT NIGHT
Come and learn about the interesting life of these mysterious nocturnal mammals. In the early evening and after closing time, we will find out if bats live in our zoo.
4. 10. 2020 ANIMAL DAY
Together with the animals, we will celebrate International Animal Day. Neither you nor the animals will be bored.
31. 10. 2020 SCARY ZOO
In the dry weather of autumn days, you will certainly get warmed with a little fun in masks. Join us in scary costumes and most importantly enjoy good mood and fun.
5. 12. 2020 IMPS AND DEVILS IN THE ZOO
sit "hell" with us and walk among the devils. (This is based on Czech traditions where kids are either comforted or frighted for their bad behaviour).
8. 12. 2020 – 10. 1. 2021 CHRISTMAS ZOO
You can shorten long winter evenings by visiting the evening zoo, watching the animals after dark and at the same time experiencing the fairytale atmosphere of thousands of bright lights and Christmas athmosphere.
24. 12. 2020 CHRISTMAS EVE IN THE ZOO
Does waiting for Santa Claus seem too long to you? You can also enjoy Christmas Eve in our zoo. Together we will feed the animals, sing carols and each child visitor will get a small gift.